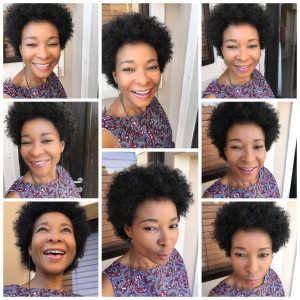 There was a time in my life when I thought everything about me was not right and needed fixing. I thought I was not smart enough, I thought my bum was too big and my eyes too small. I also thought that nobody liked me because I was too boring, ugly and nasty.
Then came a time when I realized that I have to choose whether to be like everybody else the rest of my life or to make a virtue of my peculiarities. That was the time when I learned that my peculiarities are actually my strengths. I will be 50 in five days and I have never felt better about the woman I am and the person I am becoming daily – my weight, my personality, my abilities, my achievements and the relationships I have built over the years.
I know that not everybody likes me but I love me and that's more important. I know the difference between pleasing and loving, obeying and respecting. It has taken me many years to be okay with being different, and with being this alive, and this intense.
Many years ago I was complaining to my sister about how I hate being this different, and she said to me, "Don't worry if people think you are crazy. You are crazy. You have that kind of intoxicating insanity that lets other people dream big dreams and become who they are destined to be." I hung onto that wisdom and this is who I am today. So far so good!
I am not ready to let go of the youthful part of myself yet. If maturity means becoming a cynic, if I have to kill the part of myself that is playful, naive, romantic and idealistic, then I am happy to be regarded as immature because that is the part of me that I treasure the most.
No doubt, I still feel pain, I get angry, I suffer setbacks and think of tweaking this or that when I look in the mirror but overall I have become my own cheerleader and because of that more positive things seem to be happening around me.
There comes a time when we know what we need to take with us to get where we are going. As I enter the next 50 years in five days here are five things I'll take with me:
I'll take saying "I love you" more
I'll take praying for someone who is causing me pain over letting it eat away at me
I'll take the joy of being the mother to all my children – biological or not
I'll take my sense of humour
And I'll take my pink lipstick and every bit of moisturizer I can get my hands on.