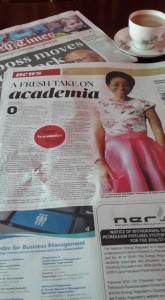 I have received lots of congratulatory notes, comments, text messages and calls on the City Press article and, despite my feelings about the article, I appreciate them all. Thank you all for the love, kind support and generosity. Sometimes when things are tough, the thought that there are so many of you who believe in me is the only reason I lift my head up and continue doing what I do. You are appreciated and it is my hope never to let you down.
But here's the thing: How does an article on someone's appointment to the prestigious position of DVC: Research and Internationalisation at UCT end up saying so little about her ideas on the work and so much about how she looks?  Talking about how she looks is not a problem, I guess, as long as it is in the context of her ideas, work and/or achievements. Why, I wonder, describe what the woman academic is wearing down to the detail of the colour of her pip toe shoes?
The headline "A fresh take on academia" was catchy – even I rushed to buy the paper. I thought the article was going to focus on my  ideas on research, the work I do with my Adopt-a-learner Foundation; my views on #FeesMustFall or transformation, etc. – all of which we talked much about during the interview. Alas, the headline referred literally to how I looked on the day. To add insult to injury, there were also at least two major factual errors. The article said she has a PhD in mathematics when in fact it is in mathematics education; it also said she worked at the University of Johannesburg (formerly Vista University) which she never did – as to where these inaccuracies came from when my CV is available online, is beyond me.
To say I was disappointed is an understatement. With my head down, face in my hands, I thought, "With all that I have said during the interview, is this all that could be written?" Of course, Zinhle, the journalist did indicate during our conversation that there is so much to write and she was going to have a tough time selecting what to include in the article, which is supposed to be only 800 words long. I am usually forward, but this time I held back – I did not make any suggestions. She promised that she would do a longer article later, possibly before I move to Cape Town. I look forward to that!
Zinhle and I had a one-hour conversation/interview on what I thought was about my appointment at UCT.  It was clear that she was fascinated by the story she had heard about how I cleaned the toilets at work earlier in the week, and the fact that the editor, Ferial Haffajee, had said to her that the professor she was going to interview is a fashionista. So, when she asked me whether I am a 'shoe-girl' I said, "no" and went on to explain that given how cheap the shoes I wear are, real shoe-girls would be surprised to hear that anyone thought I was a shoe-girl.  I meant it! But that was not the bulk of our conversation.
We had a wonderful connection, I must say.  As we were talking, I kept thinking, this woman and I could easily be friends. She is definitely my type – a proper township chick who laughs out loud while raising her hand up for a high-five. She came with a photographer and they were both very nice. We talked, I answered all her questions and laughed loudly, and a lot – my sense of humour is on point most of the time. I want to be a stand-up comedian when I grow up!
The interview was video-recorded as well. The first comment she made when they walked into my office was about how well dressed I was. I tried to deflect that by explaining that I was dressed for our annual Adopt-a-learner top mathematics students' award ceremony, happening that afternoon in Ga-Rankuwa. That was true because I only received the City Press interview request that morning when I walked into my office at 5am. So there is no way I would have dressed up for the City Press photographer because I did not know they were coming when I left home.
I am definitely sure that the journalist and the photographer enjoyed what was supposed to be an interview, but was really like a conversation to me. We talked about Unisa's research achievements since I took office in June 2011, how similar and/or different my role would be at UCT, my fitness routine, the reason why I cleaned the toilets during the workers' strike and at the end,  she asked me where I get my clothes and as usual I told her about my brilliant self-taught designer from Atteridgeville. I even gave her the contact details of the designer as I always do with anyone who admires her work. My support for young Black Township-based creative talent is well known – and I do not apologise for it.
Those who know me well would testify to the fact that I am proud that my PhD is in Mathematics Education and being the true Witsie that I am, I would never lie about working at UJ. While I appreciate the opportunities I have to serve as a university executive, I regard being awarded a B2 rating by the NRF as a scientist, within 10 years of getting a PhD, as my best achievement to date in academia. I am sure many will also testify to my, not-so-common, ideas on transformation and #feesmustfall, some of which are captured on You Tube, as well as my unconventional way of connecting with young people either on the picket line or  social media. So, ladies and gentlemen, compatriots, members of the opposition, bazalwane, detractors and so on, just in case you missed it, this is indeed a fresh take on academia.
The #FeesMustFall campaign is important and it signals both an opportunity and danger as it may be the beginning of the rise or fall of South African public higher education as we know it. Depending on how government responds we may see the emergence of a stronger private higher education sector and thus the beginning of a thriving parallel higher education system like what we have in basic education – one for the poor and the other for the rich. This is undesirable!
The #FeesMustFall campaign is about free education for all, which is essentially about ensuring that higher education is not commodified. The government's response, however, is about free education for the poor through NSFAS, which suggests that those who can afford must pay. My concern is that while the government has increased NSFAS funding and given additional money to universities to deal with the 0% increase in fees for 2016, it is not responding to the real issue that the students are raising – ending the commodification of public higher education.
Of course basic education in South Africa is not free, what we have is free education for poor learners through no-fee schools and mechanisms for learners whose parents cannot afford to pay to apply for exemption at all other schools. We need a plan or road map that indicates how we can achieve free education for all in South Africa. Such a plan should start with immediately ensuring free education for the poor at all levels. We also need a study that investigates the success and limitations of the no-fee schools since inception in 2007.
For the City Press article please go to http://city-press.news24.com/News/newsmaker-prof-phakengs-fresh-take-on-academia-20160125